Here is the full-time summary of this July's Retrochallenge, including comments from both Dale and myself. We've included those who made some progress throughout the retrochallenge this time round.
Dale's closing thoughts:
And of course, just because I didn't give a mention, doesn't mean that you were not worthy; just remember that some love goes by a quieter name, and i reserve that love for you.

Yes you!

Thanks to each and every one. More group hugs!

See you all next time and keep the black flag flying.
Dale comments: Bloody hell! That was development. Development, that was out there; development in the raw, development that was naked and shivering. And we looked down upon it as though we were in the Thunderdome itself. Super!

Mark comments: This was one serious curve-ball entry from Chris, and all the better for it. Consistent, high quality blogging of dogged determination in the completion of a task most of us just wouldn't even consider. I'll bet this man now dreams in binary. Excellent, informative and uniquely entertaining entry. Can't wait to see what he comes up with next time!
Dale comments: For the win I say, for the win! Plus he gets points for the needless Star Trek references on his blog. Saying that, I would still be staggering around the Jeffries tube looking for the EPS conduit by the end of the month had I tackled this challenge. Round of applause for Frank!

Mark comments: Excellent, consistent, highly-entertaining blogging here from Frank and he completes his task with some panache including an excellent final youtube video. Retrochallenge salutes folks who push the boundaries – and this entry does so on both the hardware and software fronts – so all hail Frank!
Winner! kd0rg
Dale comments: Loved it! Actually making something useful with a retro computer – well that doesn't happen every day does it? If i had a floppy drive for my Atari, i would use it. Top marks big guy!

Mark comments: Well, what can I say. Animated Gifs FTW! Excellent blogging, making something useful on retro-hardware is a winner in our book, and you've got to love the shiny shiny added to Rich's BASIC program to lift it beyond the norm! Very well done sir!
Dale comments: Frequent updates on the blog and on twitter and from that i am surprised he had the time to write the baseball game. More cuteness from him in the form of magazine mock-ups at the end and he also had time for a tournament on the last day, what a guy!

Mark comments: Loved this entry right from the start, and what progress Tom made throughout the month, reaching a highly polished game that looks good and does what it says on the tin! High quality blogging and some quality videos underpin the development effort to make this a very worthy winner! Well done Tom!
Dale comments: Cute! And for that points. We have had a few of these Marty McFly RCs the last couple of years and each one makes me chuckle. The letter was a nice touch. You never know, me or my brother may have actually typed that program in all those years ago. It does seem very familiar.

Mark comments: All hail the king of one-handed typing! Ian's revisit to his 1984 published colorflow program brings the nostalgic goosebumps firmly to the surface. His article is in Atarimania magazine is nestled in amongst articles and adverts from some true greats of the era and as much as typing programs in was an evil necessity of the time we can all look back lovingly with our slightly Beatle-esk rose tinted glasses on. Ian's entry captures the essence of what Retrochallenge is all about however and as Dale said his letter to the magazine editor updating his program is a really nice touch – did you send it just on the off chance I wonder?
luddite
Dale comments: A small shout out – Not since his running horses has he achieved so much in so little time. And really he didn't do much. But the server is running again – Hurrah!

Mark comments: There is something very comforting visiting Simon's blog – the layout has remained consistent throughout numerous Retrochallenge competitions. This time round Simon is thwarted by a combination of sweltering heat and a smoking Apple IIgs so doesn't achieve what he set out to but never-the-less does leave us with the legacy of his Apple II web server and its' cheeky port number! Better luck next time round friend!
Dale comments: Not a lot of blogging, but by golly he wrote a version of Forth for the C128. In a month. Given his multi-year efforts on the PX-8 disk emulator, it is breathtaking. A month! – Well done fella.

Mark comments: Indeed Earl proves his 6502-foo with not only a port of DurexForth to the C128 but a switch of assemblers in the middle to boot! He leaves us with some valuable notes on the complexity of supporting >64K on the C128 that must surely be of value to anyone attempting to wrestle with the fun of bank switching. Hopefully he will get time to publish the fruit of his efforts in a subsequent blog post.
Dale comments: I was educated. I don't imagine the information will stay in my head for long, but the project will stay in my heart forever.

Mark comments: Mike has a lot of love for the little 68hc11 and it is clear to see why – a capable 8-bitter for embedded systems with lots of on-chip support, just how it should be. He is thwarted a little by the electronics side of things – but let's face it, who isn't? Mike's blog posts are always comprehensive and entertaining and we look forward to his continued involvement in future Retrochallenge competitions. Cheers mate!
Dale comments: Once there was a old fussy BBC that never left the house, one magical kiss from A Z0m8ieDog and it was gadding about town drinking vodka and Red Bull with its mates. Nice!

Mark comments: Stephen's efforts at making the BBC Master portable are commendable and I am quite sure that this kind of project is a lot trickier than it looks. I have my own plans to do something similar so having the trials and tribulations documented by previous travellers down this road is a great help. I think it's fair to say that the project was a complete success and that has to be the cutest little screen I've ever seen on a 'portable'. Congratulations on a job well done!
Dale comments: Well he dropped the ball on this one – Geddit! – but effort and stuck-in-there-ness, makes him a champion winner to me. Hugs all 'round!

Mark comments: Sean dives head first into 6502 assembler programming on the Acorn Electron following some similar issues with potentiometers faced by Mike in his RC entry. I think whispering the words 'Mode 2' into Stephen's ear may now induce some sort of hysterical twitching following his epic battle with sprite generation. We salute those who step up to the mark and give it their best shot!
Dale comments: For the win! I say, for the win! I do love this mans work. What else can i say? Well apart from being pretty sure the objects look like they are going behind the moon! Sexy Math rulz!

Mark comments: not sure I fully agree with coding to Hawkwind but you've got to admire the progress made with all that scrolling and bouncing by Coronax this time round and his excellent blogging, including numerous quality videos (although you need to get some WD40 on that chair man!) Suffice to say that if you need to know anything about Amiga Copper lists then this is the man – nay – guru to speak to!
Harry Culpan
Dale comments: From little acorns… Good efforts and good learning. I am certainly looking forward to the works in the future. I recently had the joys of Hammurabi in a tent on the Psion, a worthy target indeed. See you next time buddy!

Mark comments: Harry familiarises himself with the venerable PDP-8, Fortran and OS/8 in this challenge and I have to say that is definitely a worthwhile investment in time. I'd like to think that Retrochallenge provided the context to focus Harry's efforts. Certainly I will be calling on Harry's blog for my own purposes when I get round to building the PiDP8 and having a play. We thank you for your efforts and hope that some of your ideas for future projects will make it into a subsequent RC!
Mark comments: Dale has a good old stab at coding for the Psion Organiser II but like many of my  RC entries seems to decide it's a pointless exercise in masochism. He wisely moves on to sorting out his enviable man-lab before messing with his Macs and concluding with a scan of the amateur radio airwaves. No direction – but entertaining as always!
Mark comments (on himself!): Well, what happened here then? Such high hopes, and it all came to nothing. I do now own three different varieties of Tandy models, books on 8080 assembler and a PiDP-8, but made very little progress. I got distracted by Advanced Squad Leader, of all things, and that was that. More focus required next time – need to choose a less masochistic project me thinks!
Mark comments: Eric wins the title of most creative use of HTML-like formatting to describe how close he got to the completion of his project. He is also a great asset to Retrochallenge in the diversity of projects tackled. Analogue electronics – never one of my strong points at college – is added to his bag of skills by the end of this challenge. Nearly getting there is close enough in our book so congratulations and hopefully we'll see the fruits of your labour when you get time to complete the challenge.
Andy Collins
Mark comments: Unfortunately Andy runs out of time with his Sharp-MZ-700 game CellarScramble – hopefully his plans to continue in January will come to fruition.
Mark comments: John earns his 'get out of RC free' card by pod-casting and attending KansasFest where he gives talks on his previous RC competition work. Always great to have John on board, even if only briefly!
Terry Stewart (Tezza)
Mark comments: Terry successfully completes his website revamp and just to prove it I went over there on my Samsung S4 with built-in browser and can confirm the site looks great! Well done Terry – it's a valuable resource you have there.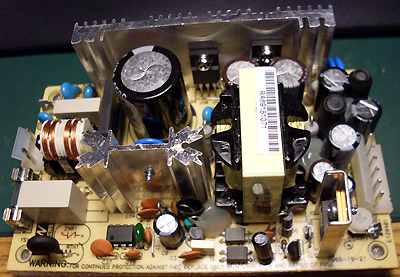 Mark comments: Anders' RC entry encompasses a few different pieces of retro kit this time round in the form of an Amiga compact flash upgrade, an Atari 2600 composite video mod, some IntyBASIC, Commodore PET games loading and some PET ROM hacking. Hurrah! A true RC entry in it's lack of focus – we're a fickle lot at times us RC'ers and all the better for it! Well done Anders!
Mark comments: Scott falters in the second half of the month but still leaves us with a couple of good wins in the form of an Amiga mouse interface and an Atari joystick to keypress interface that his lad uses to play 2600 space invaders via a mac emulator.
halfbit
Mark's comments: Tristan does a great job blogging about his interesting journey through the world of Spectrum this month including both software and hardware projects. In the second half of the month we are treated to details of installing a replacement 3.5″ floppy disk drive in a Spectrum and modified ROMs. At the end there is a list of future projects – hopefully we'll get so see more progress in a future RC!
Adam Green
Marks comments: Adam doesn't make much more progress in the second half of the month but did manage to summarise his successes and failures and clearly enjoyed his joystick building project and re-acquainting himself with some CoCo games, and it looks like he'll be back for more next time. I enjoyed reading his blog entries which show a depth of interest and it's always good to get the back-story.
Paolo Poletti
Mark comments: Paolo provides a couple of updates on his TRS-80 Model 102 but clearly is challenged for time.
Paleoferrosaurus
Mark comments: Micheal has no more time for updates in the second half of the month and clearly has his hands full with real life. Great to see some big iron VAXen, January awaits us for a new instalment (hopefully)!
Rob makes a couple more posts towards the end of the month although there isn't a lot of love for Eclipse. I also have a bit of a love-hate relationship with it myself, although I earn a living from Java so can't complain too much! We are treated to some more in-depth 6502 disassembly of Star Raiders here and I hold my hat off to Rob for persisting with what is a tricky task at best. Congratulations on the progress you've made and I look forward to further instalments.