Here is my half-time summary of the movers'n'shakers in this July Retrochallenge.
Dale's initial enthusiasm for machine code programming has somewhat diminished based on the painfulness of mistakes. It's a hard environment to learn on. An exercise in masochism if ever I saw one (and we have a few of those this time around, myself included)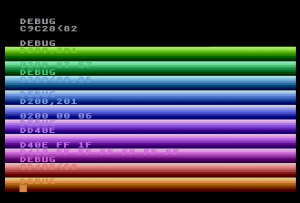 Distracted by his shiny new diy Jupiter Ace (the best kind of distraction during RC obviously) Ian never-the-less gets back to the holy grail of 8 bit CPUs the 6502 and finds that after the initial 'it's all dribbled out of my brain' realization he can get pretty colours to appear on the Atari.
No documented progress yet…
My initial enthusiasm has been somewhat tempered by my early fails, but I'm hoping to get back into full 8085 assembler mode in the second half of the challenge, although the PiDP-8 kit that has just turned up might scupper those plans!
Some great blogging from Tom here with a nicely told story as his Baseball game development unfolds. Always good to see some pen-and-paper planning. One to watch!
I am officially loving this blog! All that hand-written assembler, including manual syntax-highlighting (now that's double commitment for you) proves that you can still look stylish whilst doing the virtual equivalent of banging your head against a brick wall continuously. In all seriousness however this has got to be one great way to learn assembler. Keep out the great work Chris!
Eric has made steady progress in his curvy, wavy distinctly analogue electrical journey of vector graphics. Building a, and these are my quotes, 'simple', vector generator is clearly no 'simple' matter. Look forward to seeing the squiggly outcome.
epooch
No document progress yet of Eric's challenge
luddite
Simon says he's achieved little at the halfway point but at least blogs to tell us that, but then shock horror pulls a plan out of the bag on a cheeky day off and practically doubles his blogging effort as a result. However… before we all throw our hats in the air his computer starts smoking. Most normal folk would pull the plug, but oh no not Simon, in a cliche of so many movie cliffhangers he sits watching the progress bar slowly rise above 75% whilst the world caves in around him. Phew! Felt live I just watched that on TV. Hopefully it's just the HF mains capacitors that have been smoking – an easy fix that won't leave any lasting damage.
Paul Robson
A couple of entries from Paul. I'd love to see more going forward – anyone using state machines is OK in my book.
Andy Collins
Andy is feeling all warm and fuzzy with the Sharp's graphics character set. Looking forward to seeing his progress on Cellar Scramble – and ideally descending into his dungeon. Keep up the good work!
Earl's been dipping into some other Forth implementations in his quest for enlightenment for his own version. Taming the Commodore 128's vast memory space was his first keyboard based task – look forward to seeing what Earl can achieve in the second half of his challenge.
Mike falls in love with a 6811 SBC – primarily because the documentation is all about the paper and comprehensive. I love all that too. He then owns that board with his soldering foo resulting in an LED breakout board which is documented

ala youtube

. Good progress mate!
John is also donning the soldering iron this month but is time-challenged due to his KansasFest commitments. Hopefully there will be some more progress on his CoCo cartridge during the second half of the month.
Some good early progress from Stephen in his quest to make portable his BBC. Hopefully we'll see some more progress moving forward?
Some more 6502 goodness going on here in the form of an Acorn Electron game. My mate had an Electron and it was a really nice machine. Blimey that is so long ago! The pre-cursor to the BBC Micro now commands quite a premium on eBay too! Sean struggles with printing the tokenized BASIC from the little beast, which is understandable, but gets there in the end. Keep up the good work!
XQWV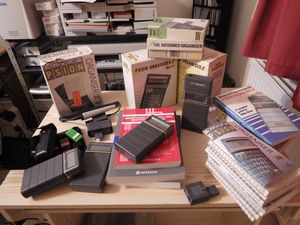 Together with Dale, Peter was going to explorer the Psion Organiser II – and it looks like he has quite a collection too. However, we've only had one update so far.
Terry Stewart (Tezza)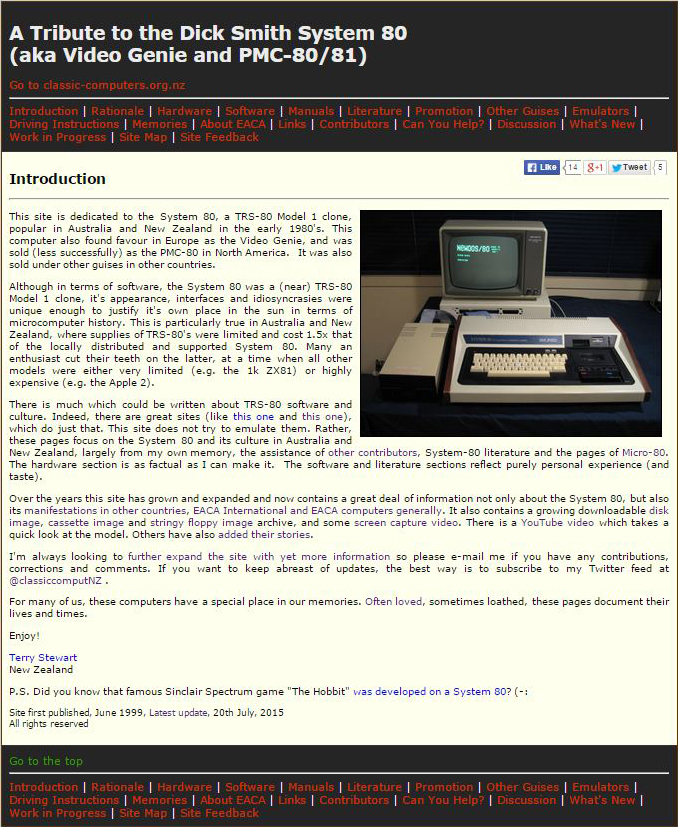 Terry has been doing a good job blogging on the progress he's making transforming his website from an ugly-duckling to one of the Queen's finest swans. As he now appears to be happy with the results expect some more retro-centric goodness moving forward into the 2nd half of the month.
MFLOPS
Just the single post from David so far on his statement of intent – lets hope there's lots going on in the background waiting to be blogged about.
Anders starts with some upgrading of an Amiga 600 in the form of a compact flash drive then moves on to an Atari 2600 composite video mod with good success. To follow some hardware tinkering he moves into the world of IntyBASIC hopefully to get some work done on a clone of Alligator Moeras. Good stuff Anders!
Scott plugs his Amiga 'tank' mouse into a MacBook courtesy of an Arduino Pro Micro. They're great little devices and as Scott proves make interfacing peripherals via USB about as easy as it's going to get. Some useful background information on the Amiga mouse is presented together with photos – and most importantly he shares his code with us. Cheers mate! Building on from this work we get a joystick interface that provides the true hand-cramp only experienced with the original Atari joystick. That's bound to bring back a few memories! Great stuff.
I honestly don't know what medication Frank is on but I'm sure in need of some. In his world of Star Trek and retrocomputing there is much progress made on the hardware side of a new graphics interface for the PET. Software booting. All systems nominal!
halfbit
Tristan has a working +3 and a dodgy 48k. He then resorts to good old magnetic media when high-tech initially fails him. Man do I so remember that Chequered Flag screen! He then starts looking at running his Speccy loading routines double quick. Looks promising. More work to be done.
Adam Green
Always good to see photos of vintage books. Not enough of those around. Must post some of my recent 8085 acquisitions. Any hoo, Adam gets stuck in to said books and gives us a potted CoCo history before diverting via Juiced.GS to loading games ala serial port into the TRS-80, repairing books then converts an altoids can into a self centering joystick for a little Sokoban. I like the meandering going on here – reminds me of myself!
April and Melody Ayres-Griffiths
Not seen any updates as of yet on tapDancer – which is clearly a very useful product.
Ah. Copper lists on the Amiga. I remember the monotony of guru meditations whilst I worked out how to do that, back in the day, with Benchmark Modula-2. Chris gets much further than I ever did however, and with 3D graphics to boot I look forward to being re-educated on other areas of the amazing Amiga!
Paolo Poletti
Paolo teases with his TRS-80 Model 102 project but no progress documented to date.
Harry Culpan
Harry gives us possibly the best blog entry title yet 'Still learning, still haven't gotten anywhere' which could almost be a mantra for many an RC entry. Learning is the important bit of course. Some really useful info here on OS/2, TECO, FORTRAN and the PDP/8. Should come in handy when I get the PiDP-8 running so please keep posting, if only for my sake!
Paleoferrosaurus
Micheal educates me on what the residents of good old USA call a 'digger truck' (backhoe, apparently) and then it's all about

the big iron

. Storage always being an issue it looks unfortunately like real-life is taking a toll. Best of luck mate!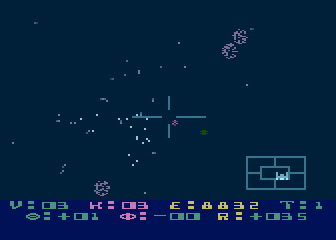 A few really good blog posts from Rob providing an education on assembly language – 6502 love again. His blog includes the epic line 'I have to wait for an explosion to set a breakpoint' – now that's hardcore!
kd0rg
OOoo soft crust. No, even better than that. Animated GIFs! Single character variable names in BASIC – reminds me of my mate Charlie's BBC BASIC Yahtzee game. You need to practice master mind just to remember all this weird and wonderful acronyms. Anyway – in the end Rich is getting it all together. On it like a car bonnet. Next up graphics. Can't wait!